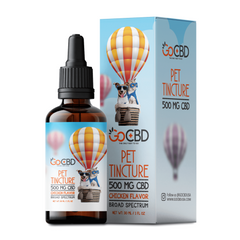 CBD Oil for Pets
Out of stock
Give your emotional support animal the emotional support they need with chicken-flavored CBD pet oil.
Each bottle contains insutrctions and a measuring pipette to ensure accurate dosing. Try our CBD Oil For Pets 500 Mg.
GUARANTEED SAFE CHECKOUT

Bring out the best in your pet's health with GoCBD Pet CBD Tincture! 
Our unique formula, containing 500 mg of CBD, is compounded to support the well-being of your pet health. 
How do we do it?  Cats and dogs have endocannabinoid systems just like humans do, so they benefit from CBD in the same way.
Dosing is simple. Just add a few drops of our Pet Tincture to their food, water or drop on treats based on their weight. Each package comes with instructions.  

A taste they will love. Our chicken flavored CBD oil for dogs is best in taste. Your pet will love it!
Free U.S. shipping for orders over $50.
$10 shipping for all other U.S. orders.
We only ship where permitted within the U.S.